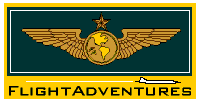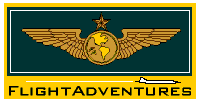 ---



















There are currently
Welcome to FlightAdventures.COM!
Adventures&nbsp&nbsp&nbsp&nbsp&nbsp&nbsp&nbsp&nbsp&nbsp&nbsp&nbsp&nbspDownloads&nbsp&nbsp&nbsp&nbsp&nbsp&nbsp&nbsp&nbsp&nbsp&nbsp&nbsp&nbsp Links

Frequently Asked Questions
Back to FAQ Index
---
What is the Weekend-to-Solo™ Adventure package?
Our Weekend-to-Solo program is designed to take the non-pilot who is proficient in Microsoft Flight Simulator 2000® or later, and in three days, train him or her to be able to solo in an actual airplane. Yes, we mean you will fly the airplane by yourself after our three-day course!

What do you mean by solo?
The term "solo" means that you will fly the airplane by yourself with no one else in the airplane. This occurs after you have successfully completed our state-of-the-art training program and our FAA certified flight instructor has approved you to take a solo flight.

Will I really get to Solo in 3 days?
FlightAdventures can't guarantee that you will solo in 3 days due to the vast numbers of variables such as weather, wind, etc. However, if you follow our program from start to finish, your chances of soloing are extremely high. Current rates of solo completion are available on request.

What kind of airplane will I get to fly?
FlightAdventures only flies meticulously maintained aircraft, equipped with the latest avionics, radios, and systems designed for your safety and comfort! Considering that most flight schools use aircraft that average over 20 years old, you'll appreciate this amazing opportunity.

How safe is it?
FlightAdventures uses general aviation's safest training aircraft, the Cessna 172 Skyhawk and Piper Warrior. In addition FlightAdventures only employs highly experienced aviation professionals as instructors. Every aspect of our Weekend-to-Solo Adventure complies with all Federal Aviation Administration regulations regarding solo flight. When you graduate from our course you'll not only be a safe and legal solo pilot, you'll have received a solid foundation of aviation knowledge to build on.

Do other companies offer this training?
No, FlightAdventures is the first and currently the only company in the world providing this type of training using state-of-the-art flight training techniques, which are also being utilized by the United States Navy.

Where do I stay during my Weekend-to-Solo Adventure and how do I get there?
FlightAdventures can arrange all of your lodging and transportation needs for you. There is no additional fee for this service, however the cost of lodging and transportation are not included in the Adventure price. Of course you can make your own arrangements if you so desire.

Can I bring my spouse/partner to my Weekend-to-Solo Adventure?
Yes, and we encourage it! There's nothing more satisfying that sharing your momentous achievement with the most important person in your life. FlightAdventures offers numerous daytime excursions ranging from local sightseeing tours to shopping for any spouse/partner that won't be participating in the Adventure itself. As you'd expect, specific offerings vary based on specific FlightAdventures event location. We can supply a list of specific offerings upon request.

How do I get started?
Start practicing with Flight Simulator 2000 right away. Flight Simulator 2000 (Standard or Professional-it doesn't matter which version you purchase) can be purchased at most computer software stores, office supply stores (Office Max, Office Depot, etc.), and larger retail stores such as K-Mart and WalMart. A flight yoke controller and a set of rudder pedals are also required. FlightAdventures-approved controllers are available directly from FlightAdventures. Next complete the Tutorials in the Pilot's Handbook (user's manual) for completing your Private Pilot checkride. When you have passed this step, register for an Adventure Package and you'll receive our proprietary training materials to study. After studying the material and when you think you're ready, call FlightAdventures so we can schedule an online checkride. When you pass this online check ride, you'll be ready to attend your Adventure. Note that this Adventure has other prerequisites such as passing a Flight Medical Exam. These other requirements are listed in our Weekend-to-Solo prerequisites. If you have further questions, contact us and we will let you know exactly what you need to do to start on your Weekend-to-Solo Adventure!

Back to the top of the page
---
What is the Explorer-Plus Adventure™?
Our Explorer-Plus Adventure is designed as the next step after completing our Weekend-to-Solo course. This Adventure is designed to meet the Federal Aviation Regulations for cross-country flight, which you need to complete before taking your Private Pilot checkride. The Explorer-Plus Adventure combines cross-country flight training with our certified Flight Instructors with exciting destinations such as Catalina Island, Grand Canyon, Las Vegas, and Yosemite. Customized Adventures are also available. Let us know what you want your Explorer-Plus Adventure to be and we can probably make it happen!


Do I have to complete your Weekend-to Solo Adventure to be eligible?
No. You can experience the thrill of flying in your personal aircraft to many exciting destinations without having soloed first. One of our highly experienced instructors will accompany you to make the Adventure both safe and fun. The only requirement is that you hold a third class Flight Medical Certificate prior to the flight and have logged some previous flight training time.

Back to the top of the page
---
What are FlightAdventures' policies?
Please see our FlightAdventures Policies and Information page.

Back to the top of the page
---
Back to FAQ Index


Copyright © 2000- FlightAdventures. All rights reserved.