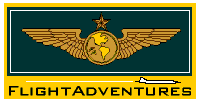 ---



















There are currently
Welcome to FlightAdventures.COM!
Adventures&nbsp&nbsp&nbsp&nbsp&nbsp&nbsp&nbsp&nbsp&nbsp&nbsp&nbsp&nbspDownloads&nbsp&nbsp&nbsp&nbsp&nbsp&nbsp&nbsp&nbsp&nbsp&nbsp&nbsp&nbsp Links


Policies and Information

PAYMENT & RESERVATIONS
A) To reserve your space in an Adventure, you must remit the required deposit within 10 days of the day you called to reserve your space. Failure to remit this payment will result in cancellation of your reservation.
B) The balance of the Adventure cost is due 30 days prior to the event. If you're calling to reserve space in an Adventure that is less than 30 days away, full payment for the course is required at the time you make the reservation.

CANCELLATION, RESCHEDULING & NO-SHOW POLICY
A) If you cancel or reschedule 21 days or more prior to your Adventure, you will be refunded the full amount you have paid, less a $250 fee.
B) If you cancel 8 to 20 days prior to your Adventure, you will be charged 15% of the total Adventure cost to do so.
C) If your reschedule 8 to 20 days prior to your Adventure, you will be charged 15% of the total Adventure cost to do so.
D) If you cancel or reschedule 7 days or less prior to your Adventure, of "No-Show," there is no refund or rescheduling credit.

PASSPORTS AND VISAS
Individuals residing outside the U.S. who do not hold valid U.S. Passports should contact the appropriate consulate in their country to acquire the necessary visa.

TRAVEL DOCUMENTS
Approximately 15 days prior to departure date you will receive a travel information package that will include your airline ticket, travel tips, hotel list, baggage tags, etc..

FLIGHTADVENTURES MEMBERSHIP
Our Adventures require a blend of adventuresome spirit, physical fitness, walking ability and mental alertness, and a capacity for accepting situations we have no control over. If you have health concerns and would like to attend a FlightAdventures event that does not require a Flight Physical, we suggest that you contact your physician to help determine the suitability of one of our Adventures for you. We regret that we're unable to accept requests for special diets, wheelchairs, or individuals that require special assistance.

LIMITATIONS AND DRESS RESTRICTIONS
Other than in some Flight Sim Adventures, we regret that we're unable to accomodate people that weigh over 300 lbs.. Comfortable clothing (cotton is ideal in all weather) and rubber-soled shoes (tennis shoes, etc. are okay) should be worn during your Adventure, but skirts and dresses are discouraged from being worn (especially by men! —just checking to see if you're really reading this...) during flight activities. Open toe shoes are strictly prohibited.

BAGGAGE
Due to the limited baggage capacity of our aircraft, our Explorer-Plus Adventures™ limits are one large suitcase not to exceed 50 pounds in weight nor 30"x22"x10" in dimension, and one small piece of carry-on size luggage that does not exceed the dimensions of 17"x14"x6" (standard airline carry-on size). FlightAdventures does not assume any responsibility for loss or damage to baggage or personal belongings.

ADVENTURE EXTENSIONS
If you'd like to continue flying after completing your Adventure, or if you're unable to complete your Adventure due to weather, schedules permitting, you will be offered the opportunity to continue your Adventure on a per day basis. FlightAdventures Extension rates vary. A FlightAdventures Customer Service Professional can provide you with current pricing information.

SMOKING
Please note that smoking is prohibited in our aircraft and in many areas of most airports, however, frequent stops are made during most Adventure events.

HOTELS
Hotels reserved for FlightAdventures' events are rated as U.S. AAA standard "4 Stars" whenever possible. All hotel rooms provide a private bath (and/or shower) and toilet. FlightAdventures' hotel selections are based on a balance of comfort and location (to best facilitate airport/simulator accessibility).

MEALS
Depending on your Adventure package, some or all of your meals are included for the event. Please note that we are unable to accept requests for special menus to meet dietary or religious requirements.

COMPLETE ADVENTURE PACKAGE PRICE DOES NOT INCLUDE
Beverages and meals not detailed in the itinerary. Personal expenses including passport and visa fees, alcoholic beverages, tips to local tour guides, and all other items of a personal nature. Travel Insurance is also not included and is highly recommended.

WEATHER CANCELLATIONS
Under most circumstances, mild weather conditions such as wind, cloud coverage, and light rain are not cause for Adventures to be canceled. However, if conditions exceed our safety guidelines for Adventure Flights, and at Flight Adventures' discretion portion(s) are cancelled, refunds will be pro-rated in half-day increments.

WEEKEND-TO-SOLO
A) FlightAdventures cannot and does not guarantee that all students will solo within the allotted 3-day Adventure period. There are simply too many variables beyond our direct control that can interfere with and inhibit progress to our ultimate goal.
B) FlightAdventurers who are ultimately certified to solo by a FlightAdventures Flight Instructor, as outlined by the Federal Aviation Regulations, are only authorized to solo in the same make and model aircraft, at that specific airport, under the specified weather conditions, on that specific day.
C) Authorizations to solo elsewhere, under different weather conditions, and/or aircraft require additional training and certifications from a Certified Flight Instructor—all of which are beyond the scope of our Weekend-to-Solo Adventure.
D) Weather conditions must be a minimum of 5 miles visibility, 2,000' ceiling, with no more than a 20° crosswind at 15 mph to solo.

CONTRACTUAL TERMS & RESPONSIBILITY
Flight Ventures, Inc., dba FlightAdventures, hereinafter referred to as FA, P.O. Box 767, Avila Beach, California 93424-0767, acts solely in the capacity of an agent for suppliers (identified in our Adventure documents) in arranging for travel-related services that are not directly supplied by FA (such as air and surface transportation, hotel accommodations, meals, tours, etc.). As Agent, FA nor biztravel.com/Rosenbluth International shall be responsible for breach of contract or any intentional or careless actions or omissions on the part of such suppliers which result in the loss, damage, delay or injury to your or your travel companions or group members. In addition, FA and its suppliers shall not be responsible for any injuries, damages, or losses caused to any traveler in connection with terrorist activities, social or labor unrest, mechanical or construction failures or difficulties, diseases, local laws, climactic conditions, abnormal conditions or developments, or any other actions, omissions, or conditions outside FA's control. Adventurer assumes complete and full responsibility for, and hereby releases FA and its suppliers from any duty of checking and verifying any and all passport, visa, vaccination, or other entry requirements of each destination, and all safety or security conditions at such destinations during the length of the proposed travel. By embarking upon his/her travel, the Adventurer voluntarily assumes all risks involved with such travel, whether expected or unexpected. Adventurer is hereby warned of such risks and is advised to obtain appropriate insurance against them.

FA reserves the right to withdraw any Adventure or to make any changes in the Adventure event, with or without notice that FA determines is advisable, including substitution of accommodations or transportation. If any Adventure must be withdrawn prior to its beginning date, FA's liability is limited to a refund of monies, if any, received by FA. Further, FA may decline to accept or retain any person on the Adventure at any time. Should an Adventurer's conduct become incompatible with the smooth operation of the event or adversely affect the safety and enjoyment of the other Adventurers, then the FlightAdventures Membership shall be withdrawn and FA shall be under no liability to such person. Adventurer enrollment and payment for Adventure shall constitute the Adventurer's offer to take the Adventure pursuant to all of the terms set forth above and in FA Adventure package documents, which terms cannot be varied except in writing by an officer of FA. A binding contract shall exist only after FA has accepted the offer in California by sending a confirmation to the Adventurer. If there is any dispute between the Adventurer and FA, the parties will submit to mediation by a mediator chosen by both parties and, if not resolved by mediation, then by binding arbitration by one arbitrator chosen by the parties, or if no choice can be made, then by an arbitrator chosen by federal judge for the district of California. All proceedings shall occur in San Luis Obispo, California, and California law shall apply. The Adventurer agrees to this exclusive jurisdiction and venue in California for resolving all disputes.

Transportation companies, airlines, etc., are not to be held responsible for any act, omission or event during the time passengers are not on board planes, transportation or conveyances. The Adventurer contracts in use by the airlines or transportation companies when used shall constitute he sole contract between the airline, transportation company and passenger or purchaser of this Adventure and FA assumes no responsibility for this connection. FA is not responsible for typographic errors and all prices are shown in U.S. dollars.

Back to the top of the page
---


Copyright © 2000- FlightAdventures. All rights reserved.