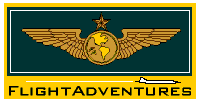 ---



















There are currently

Virtual Pilot Center™
Adventure Log Index
Adventures&nbsp&nbsp&nbsp&nbsp&nbsp&nbsp&nbsp&nbsp&nbsp&nbsp&nbsp&nbspDownloads&nbsp&nbsp&nbsp&nbsp&nbsp&nbsp&nbsp&nbsp&nbsp&nbsp&nbsp&nbsp Links

VPC Member-submitted Adventure logs document the spirit of adventure, magic of flight, and enhance the unique pilot camaraderie that we all share here at the VPC. Adventures can cover simulator flights, real flights or even some unique scenery or aircraft paint schemes that you've created in your favorite flight sim. These are the best of the best.


---



Have you been there or done that?
Why not share your aviation-related feats and experiences with everyone? Submit an account of your adventure (150-200 words maximum and please don't forget to include your name and VPC callsign) with no more than three screen shots and/or pictures

[@96dpi for pix]

to editor@flightadventures.com. If your adventure is unique, thrilling or just simply unbelievable enough to make the grade, your exploits might be immortalized here. Good luck and keep 'em flying!
All submissions become property of FlightAdventures.


Copyright © 2000- FlightAdventures. All rights reserved.