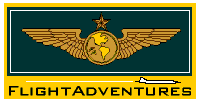 ---



















There are currently
Welcome to FlightAdventures.COM!
Adventures&nbsp&nbsp&nbsp&nbsp&nbsp&nbsp&nbsp&nbsp&nbsp&nbsp&nbsp&nbspDownloads&nbsp&nbsp&nbsp&nbsp&nbsp&nbsp&nbsp&nbsp&nbsp&nbsp&nbsp&nbsp Links


FlightAdventures - Bring Aviation and People Together

About Us
FlightAdventures was formed in 2000 to fill a need—to bring the excitement, wonder, and thrill of aviation to the public. Since the earliest days of man, humans have had a fascination with flight. What FlightAdventures is able to provide is the chance to experience flight in safe, well-structured environments using the latest aircraft and equipment, and provide unique opportunities to do things generally not available to the general public.

At FlightAdventures we believe that a company is only as good as its people. We also believe that having the right people doing the right jobs is what separates FlightAdventures from other organizations. You'll only find people who love what they're doing at FlightAdventures. You'll see what a difference that simple concept can make when you experience any of our Adventures. We invite you to come and share our enthusiasm for flight.

Please allow us to introduce some of the members of the FlightAdventures Team.

Employment Opportunities



---
Ben Chiu


A Commercial Pilot with Flight Instructor, Advanced Ground Instructor, Instrument Ground Instructor, Instrument, and Multiengine Instrument ratings, Ben is a popular flight simulation writer and author. His works include nine books on flight simulations and flight training that include the best-selling Inside Moves: Microsoft Flight Simulator 98," and "Inside Moves: Microsoft Combat Flight Simulator," from Microsoft Press, and "Flight Simulator 2000 Official Strategies and Secrets" for Sybex publishing. Ben's columns and articles have appeared in "Computer Games Strategy Plus," "InterAction," "Family Software," and other magazines. And on the Internet the "MSN Gaming Zone," cdmag.com, combatsim.com, Microsoft Network (MSN), and his personal web site http://www.benchiu.com Chiu was also the former host of the MSN Computing Central Microsoft Flight Simulator Forum Chats, which are now hosted here on the FlightAdventures Virtual Pilot Center™. Ben is also an FAA-appointed Aviation Safety Counselor for the San Jose Flight Standards District Office.

Back to the top of the page
---
Mark Hoffman


A Captain for a major U.S. airline with Boeing 747, 737, and 757/767 type ratings, over 9,000 hours of experience, and a former instructor from the renowned FlightSafety Academy in Vero Beach, Florida, Mark holds an Airline Transport Pilot certificate, a Flight Instructor certificate with instrument and multiengine ratings and an Advanced Ground Instructor certificate. Mark's also been awarded a Gold Seal to his Flight Instructor certificate in recognition for his students achieving an over 95 percent rate of success on their flight tests on their first attempt. With over 3,000 hours of flight instruction given in the last twelve years, Mark brings an abundance of real world experience and a love of aviation to the FlightAdventures Team.

Back to the top of the page
---
Carlos Bea


Having attended the prestigious Embry-Riddle Aeronautical University in Prescott, Arizona, Carlos holds Airline Transport Pilot and Certified Flight Instrument Instructor certificates, with Multiengine Instrument and Learjet type ratings. A 14-year veteran of flight instruction with over 5,000 hours of flight experience, Bea is one of the most experienced flight instructors in the central coast of California. Carlos' across the board experience (he speaks fluent Spanish and French as well) enables him to bring that extra level of quality and attention an organization such as FlightAdventures requires.

Back to the top of the page
---
Jay Kee


Jay served as the Computer Games Forum Manager for MSN from September 1995 through March 2001 and is a member of the Association of Online Professionals. In addition to his work developing content and community for the Forum, he edited and published an online Game Reviews site, which he created in 1996 on the old MSN proprietary service. Prior to joining MSN, Jay spent 16 years in broadcast television working as a Writer-producer and Creative Director, and also wrote columns and game reviews for magazines like Omni, Compute and Computer Gaming World; alternated roles as Managing Editor and Games columnist for LiveWire (GEnie's online Multimedia Magazine); reviewed game sites for Lycos' The Point; edited a player newsletter for GemStone III; and worked as a Sysop in GEnie's LiveWire and Multimedia RoundTables. Although Jay plays everything he can get his hands on, he prefers flight sims over just about any other genre—which makes him the ideal Editor and Forum Manager for the FlightAdventures Virtual Pilot Center™.

Back to the top of the page
---
Dave Dawson


With more than 20 years experience as marketing professional, Dave is also the founder and owner of Data Based Marketing (DBM), a marketing agency with over 100 clients nationwide, including Cessna Aircraft Company and The Plane Depot, Cessna's #1 dealer in the US. Being a Private pilot for over 10 years himself, Dave knows the heart of an aviation junkie firsthand. Dave's aviation experience, professional success, and powerful marketing savvy deliver an outstanding blend of practical wisdom to FlightAdventures.

Back to the top of the page
---
Tom Hayward


Tom is a network administrator for several large networks, and is also CFO and VP of Operations for a small startup company interested in applying technology towards leisurely pursuits that will enhance free time. When he's not maintaining a network or website, Tom can be found beta testing products or the latest software. A former Assistant Moderator for MSN Computing Central and host of the Computer Games and Flight Simulator Chats, when Tom's not using the computer, his CPU runs distributed computing projects for Seti and Genome with a group Skzdalimit. A game lover at heart, Tom technical expertise is the grounding force that directs and supports the FlightAdventures web sites and Virtual Pilot Center™.

Back to the top of the page
---
Andy Moon


Hailing from the United Kingdom and currently working towards a career with the airlines, Andy is a young, very capable aviator, who has civil and military flying experience, and has been working with flight simulators for over 7 years. A former MSN Internet Gaming Zone Sysop where he held several lead positions in the Microsoft Flight Simulator community producing record-breaking events, Andy is a proven, dynamic team leader with an extensive knowledge of multiplayer environments and online communities. Having written reviews for AVSIM Online and being featured in the PC PILOT magazine, he is well known in the growing Flight Simulator community from working with various flight simulation companies all over the world. Andy's skills are instrumental in the development and management of the FlightAdventures Virtual Pilot Center™.

Back to the top of the page
---
Stephen Hodgson


Stephen's interest in flight sims and computing took him to work for the MSN Gaming Zone's FlightSim Community where his primary role was live tech support as well as in-game assistance. Later he worked as the Zone's FlightSim Community GameTeam Lead, responsible for a small group providing varied Flight Sim 2000 and 98 support, whilst still working with live tech support himself and coordinating the tech support offered at the Zone's biggest FlightSim events. Stephen now puts his flight sims and general tech support experience and knowledge to use in the FlightAdventures Virtual Pilot Center™.

Back to the top of the page
---
Guido Ostkamp


Guido is a computer science engineer who primarily develops Unix software in Germany. He first got bitten by the flightsimming bug around 1998, which brought him to start visiting CompuServe's FSFORUM on a regular basis. With an extensive knowledge of the Perl programming language and its add-on modules, Guido brings invaluable technical and developmental expertise to the FlightAdventures Virtual Pilot Center.

Back to the top of the page
---
Craig Gresham


Craig's passion for flight sims began in 1998 when he purchased Microsoft Flight Simulator 98. Since then, he's assisted with several various flight sim and aviation-related events such as the MSN Computing Central Microsoft Flight Simulator Forum Chat featuring three-time U.S. National Aerobatic Champion, Patty Wagstaff. As a second level support supervisor for Hewlett Packard Technical Support, Craig's computer hardware and software expertise, and his love for flight sims produce a powerful combination of practical knowledge and aviation interest to the FlightAdventures Technical Support Team.

Back to the top of the page
---
tarpit@flightadventures.com
Spam Robot trap - This usually tricks the spamming robot hoards into sending email to this address. Please ignore

Back to the top of the page
---
Employment Opportunities
We're an up-and-coming company that's blazing new routes, utilizing the latest technologies, and doing things never thought possible--all while having more fun than should be allowed!

When you love your job, work isn't really work anymore. If you love aviation, are highly motivated, like to see things get done, can "think outside the box," and can work in a dynamic environment with other forward thinkers, FlightAdventures may be the place for you. Prior experience welcome, but not mandatory. No relocation required for most positions. Submit resume' to admin@flightadventures.com


Back to the top of the page
---


Copyright © 2000- FlightAdventures. All rights reserved.