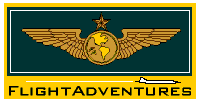 ---





















There are currently
Virtual Pilot Center™
Aircraft Sales
Adventures&nbsp&nbsp&nbsp&nbsp&nbsp&nbsp&nbsp&nbsp&nbsp&nbsp&nbsp&nbspDownloads&nbsp&nbsp&nbsp&nbsp&nbsp&nbsp&nbsp&nbsp&nbsp&nbsp&nbsp&nbsp Links

---
---
Flying is an adventure.
Buying an airplane shouldn't be.
---

Making it easy to find the best aircraft at the best price is the idea behind FlightAdventures' Aircraft Sales hangar. We affiliate only with top aircraft sales companies that make the purchase process completely hassle-free. These affiliated specialists can find you the best examples of the aircraft you are looking for, new or pre-owned, from unique single engine aircraft all the way to high-end turbines.

* New Cessna aircraft only available in NJ, NY, and PA

Our featured sales associate is The Plane Depot®. They are one of the premier aviation sales organizations in the country. Besides being the #3 Cessna Sales Team Authorized Representatives (CSTARs) in the world, providing new Skyhawks, Skylanes and Stationairs, the The Plane Depot has an extensive aircraft locator system that can find the highest quality pre-owned aircraft available of any type for your review. Sales specialists for first-time aircraft buyers, they also can arrange highly competitive financing and insurance to meet your needs.


*** As an added bonus, all FlightAdventures members who purchase an aircraft through The Plane Depot will receive a FlightAdventures Nomex&reg flight jacket, valued at $500. Or if you prefer, simply pocket the $500 to get a head-start on the real adventure... the one that includes you flying your own personal aircraft.


*** Some restrictions apply. Click here for details.




---


Please complete and submit the following form. There is absolutely no obligation to purchase anything. The Plane Depot will begin a search process based on your form response. A sales representative will be contacting you shortly to confirm your aircraft request.



---

Copyright © 2000- FlightAdventures. All rights reserved.

The Plane Depot® is a registered trademark of FRG III, INC.